SIP Team Returns to USD to Collaborate with the Supply Chain Management Institute as Presenters in October
(August 17, 2019 – Boston, Mass.) Out of its long-standing collaborative relationship with USD's Joel Sutherland, the SIP team will return to the Supply Chain Management Institute in San Diego this October 14-15 to participate as a workshop presenter during the annual Fall Forum.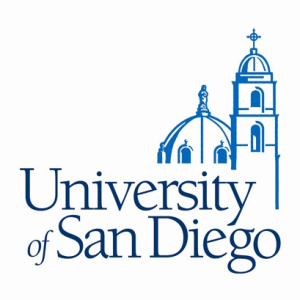 Bob Pojasek and Art Stewart will lead a workshop "New Leadership Strategies for Competitive Advantage as a Preferred Supplier," with SIP Colleague Alec Alessandra providing our take from a client worldview.
In addition to the SIP workshop, Art Stewart will moderate the opening plenary with an Industry Panel on Aerospace and Defense. The panelists will be Derek Andrews, Vice President of Procurement, General Atomics Aeronautical Systems; Vince Aguilar, Vice President of Global Supply Chain, Northrop Grumman; and Jody Franich, Vice President of Enterprise Sourcing Office, Boeing.
Go here for details on our workshop and the entire conference. SIP
---
New Book Leverages SIP Platform on Risk Management as Next-Gen Approach to Business Growth and Competitiveness

(Updated July 22, 2019 – Boston, Mass.) A new book by SIP Senior Strategist, Dr. Robert Pojasek, has been published by Business Expert Press, publisher of a widely-used series of shorter instructional works by Harvard professors designed as practical implementation guides for corporate leadership teams.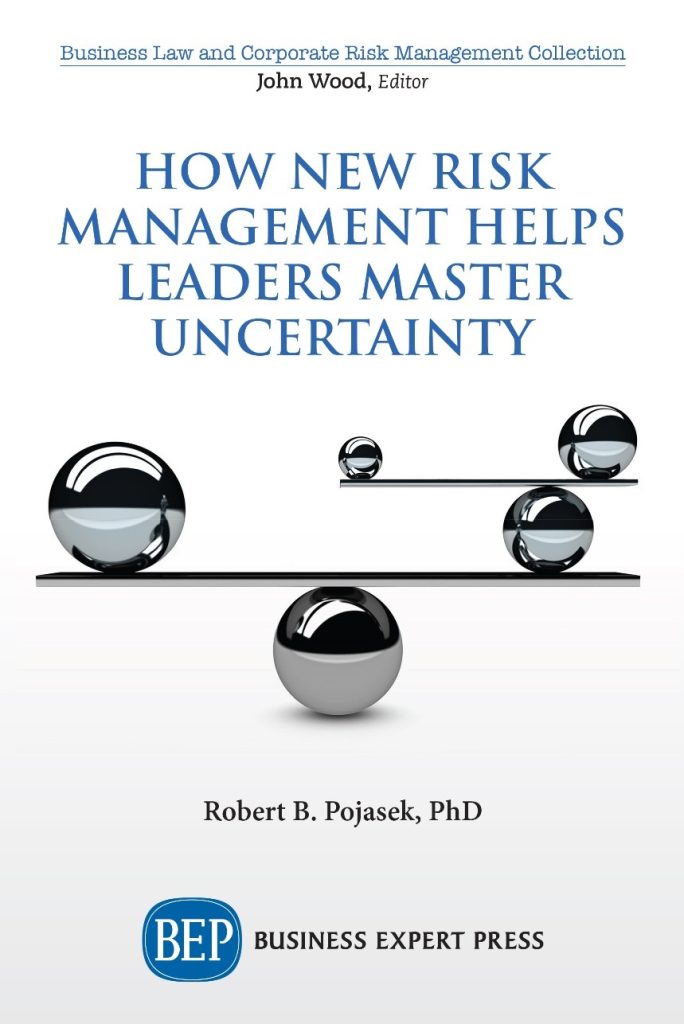 "How New Risk Management Helps Leaders Master Uncertainty" outlines a framework for seizing new business opportunities while mitigating threats and building resilience through next-generation approaches to enterprise risk management, including integration of the latest international standards practiced in some 180 countries and that comply with new levels of scrutiny from corporate investors and the financial markets.
SIP is using Pojasek's book as one of its resources available to clients with its expanding training program, headed by Pojasek and colleague Art Stewart. Several associations are already committed to bulk purchases as part of their focus on innovative approaches to improving leadership and management capabilities.
"In this new era of perpetual volatility, fleeting control and diminished predictability," notes SIP Managing Partner Art Stewart, "organizational leaders across the spectrum of business and industry contexts are seeking to secure their competitive readiness in order to successfully transition their enterprises for accelerated growth. Our collaboration with Bob and our team consulting offering includes a unique SaaS tool developed by a global leader in ESG and other applications. We will enable our clients to significantly improve the throughput of their growth strategy by better navigating today's landscape of hyper-scrutiny, radical accountability and unrelenting customer expectations."
To order your copy now and receive a 15% discount using SIP Promo Code POJ2019, click on the book image. For more information on SIP's corresponding training offering, Contact Us.
---
Industry Veterans Delivering Timely Capabilities for Preferred Suppliers Facing Increasing Supply Chain Scrutiny
Next-Gen ESG Platform Transforms ESG-based Sourcing into a Discovery of New Business Opportunities
(March 11, 2019 – Boston, Mass.) A team of industry veterans headed by Robert Pojasek, Ph.D and Art Stewart, MPM are delivering a suite of integrated capabilities that improve the management of uncertainty, build greater resilience, and develop new business opportunities for Preferred Suppliers facing ethical trade audits by their major sourcing company customers – and increasing scrutiny from external third parties.
The suite from Strategic Impact Partners (SIP) comprises advanced capabilities that have never been available in this integrated configuration before. It synthesizes their team's uncommon blend of multidisciplinary client-side and consulting experience for major brands, a cloud-based SaaS technology backbone, and Dr. Pojasek's experience in having conducted more than 20 ethical trade audit preparedness engagements to date for a range of preferred global supplier organizations. SIP
Read the full announcement here Download Capabilities Overview
---
Three Driving Trends in Strategic Value Creation
SIP Team Partnered with Corporate Responsibility Association on Webinar
(February 1, 2017.) SIP team members Brian Cunningham, Jeff Leinaweaver, and Art Stewart presented a one-hour webinar examining three trends that are driving a transformation of corporate responsibility (CR) practice to a new operations-centric model. The webinar, produced in partnership with the Corporate Responsibility Association, was originally presented live on Wednesday, January 18.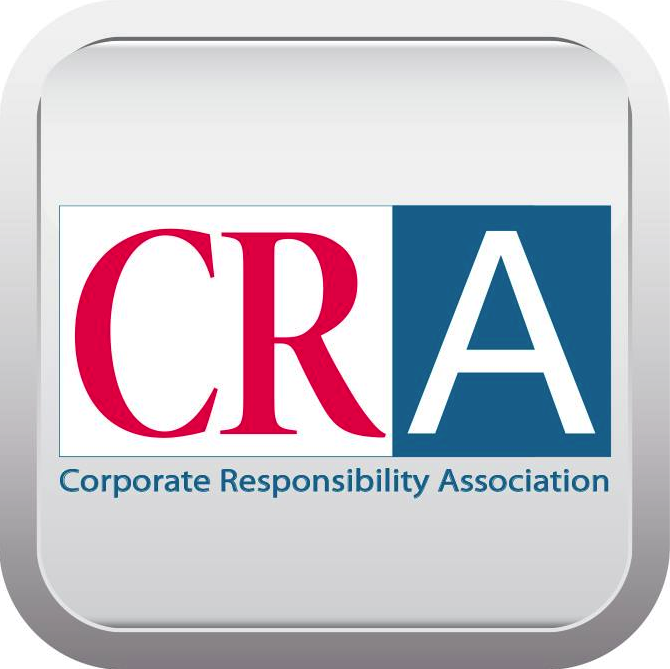 CR is maturing and morphing into uncharted areas at a rapid pace. Responsible business standards and practices are becoming part of the solution criteria for a host of increasingly complex challenges resulting from a dramatically shifting context for global supply chain operations, enterprise risk management, Board governance, C-suite leadership, human capital enablement and culture development.
Now available on demand, the webinar will help Corporate Responsibility Officers and their leadership counterparts utilize their expertise, and the tools at their disposal, to successfully extend the CR function into operational areas where the future competitive viability of the enterprise and new expectations for value delivery are most acute. SIP
---
Art Stewart to Conduct Workshop for Legal Marketing Association Annual Education Conference
(June 1, 2016.) SIP Managing Director Art Stewart will present a workshop at the Second Annual Education Conference offered by the Legal Marketing Association (LMA), Metro-Philadelphia Chapter.
The full-day event will take place in Philadelphia on July 18 and is expected to draw some 150 participants – including Chief Marketing Officers, Directors of Business Development,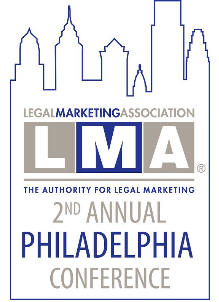 Events Managers, Project, Pricing and Marketing Operations Managers at leading law firms as well as service providers to the legal marketing industry.
Art's workshop, From Disruption to Reinvention: What Lawyers Can Learn from Management Consultants will look at management consultancy models as a guide for enhancing law firm competitiveness in a rapidly changing market. It will combine insights from the management consulting field – including examples of business transformations as well as approaches to firm management and leadership, positioning, offering differentiation, and the people-infrastructure-process aspects of go-to-market programs. SIP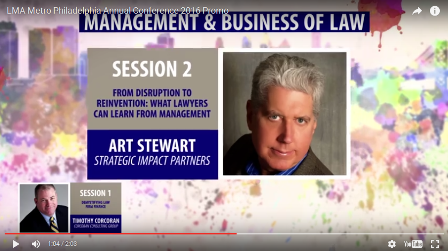 ---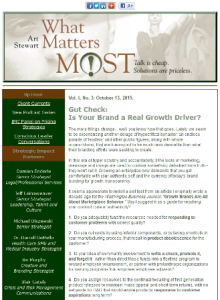 (May 26, 2016.) Strategic Impact Partners has published the latest edition of our E-Letter,"What Matters Most!" Among the topics covered is the 19th Annual Global CEO Survey, "Redefining Business Success in a Changing World." The findings indicate that global CEOs are awakening to purpose and responsibility values as strategic assets for enhancing business competitiveness. Read the full edition here.
---
Art Stewart and Jeff Leinaweaver to Present Corporate Responsibility Workshop at Spring Symposium of the Supply Chain Management Institute in San Diego
(March 2, 2016.) Strategic Impact Partners Managing Director Art Stewart and Senior Strategist Jeff Leinaweaver will deliver a workshop as part of the program for the annual Spring Symposium of the Supply Chain Management Institute at the University of San Diego in April.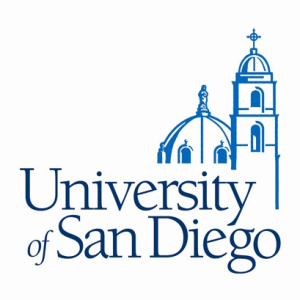 The Symposium convenes Wednesday, April 13 and concludes the following evening, April 14. Stewart and Leinaweaver will present their 90-minute session for attendees on Thursday. The session, Global Supply Chains as the Next Frontier in Corporate Responsibility, will provide a snapshot of the current global responsibility movement in the context of its transformation of supply chain strategy, operations, and social responsibility. The interactive workshop will also look at how sustainability practices are transforming management systems – particularly human rights issues and the global supply chain.
Nearly 200 supply chain professionals, representing a diverse range of leading brands and industries, are expected to attend. Other speakers presenting include leaders from Southern California Edison, Callaway Golf, Tesla Motors, Mattel, Barco Uniforms, Tranzact Technologies, ParadoxSolve and the University of San Diego, among others.
The Supply Chain Management Institute was created in 1999 to support the development of exceptional professionals who are sought after by industry and the public sector alike. The Institute's programs and other activities focus on helping achieve more cohesive supply chain management business acumen among students, faculty and industry at large.

As part of the University of San Diego's graduate School of Business, the Institute is wholly invested in supporting the school's mission to develop more globally minded, responsible leaders. It conducts research, updates the curriculum, and creates advanced learning opportunities to help students gain relevant supply chain management knowledge that is aligned with industry needs. SIP
---

(November 1, 2015.) ArtStewart will participate on a panel examining current best practices to do with pricing strategies for professional services firms, particularly management consultants, at the November 13 breakfast meeting of theInstitute of Management Consultants, Philadelphia Chapter.
The panel will lead a dynamic and interactive discussion on the pros and cons of the various types of professional services pricing, such as fixed fee, time and material, contingency and retainer based fees. The audience of colleagues will be invited to join in the discussion covering a range of issues, including which form of pricing is appropriate for certain clients and what is the sound basis for calculating a base budgeted rate.
The program will be moderated by Ken Keefer, who works with leading pharmaceutical companies to help them gain more value from their business data. Joining Art on the panel will be Jeff Stollman, a consultant who develops solutions to difficult problems across a wide range of disciplines from sensors and robotics to financial services, and information security and privacy along with Tom Casey, who improves business performance and operations, as well as the planning and implementation of information technology strategies. SIP
"How organizations look at risk and crisis management is constantly evolving. It's critical to have a business preparedness and continuity plan. Not only will it help you plan for a disaster, but it will also protect the safety of your employees and maintain customer service. More and more, public-private partnerships are enhancing all aspects of emergency management: preparedness, protection, response, recovery and mitigation. Information sharing, emergency planning, communications and resource sharing are core to all of it."

- Blair Gately, SIP Senior Strategist; former FEMA Crisis Response Communications Expert