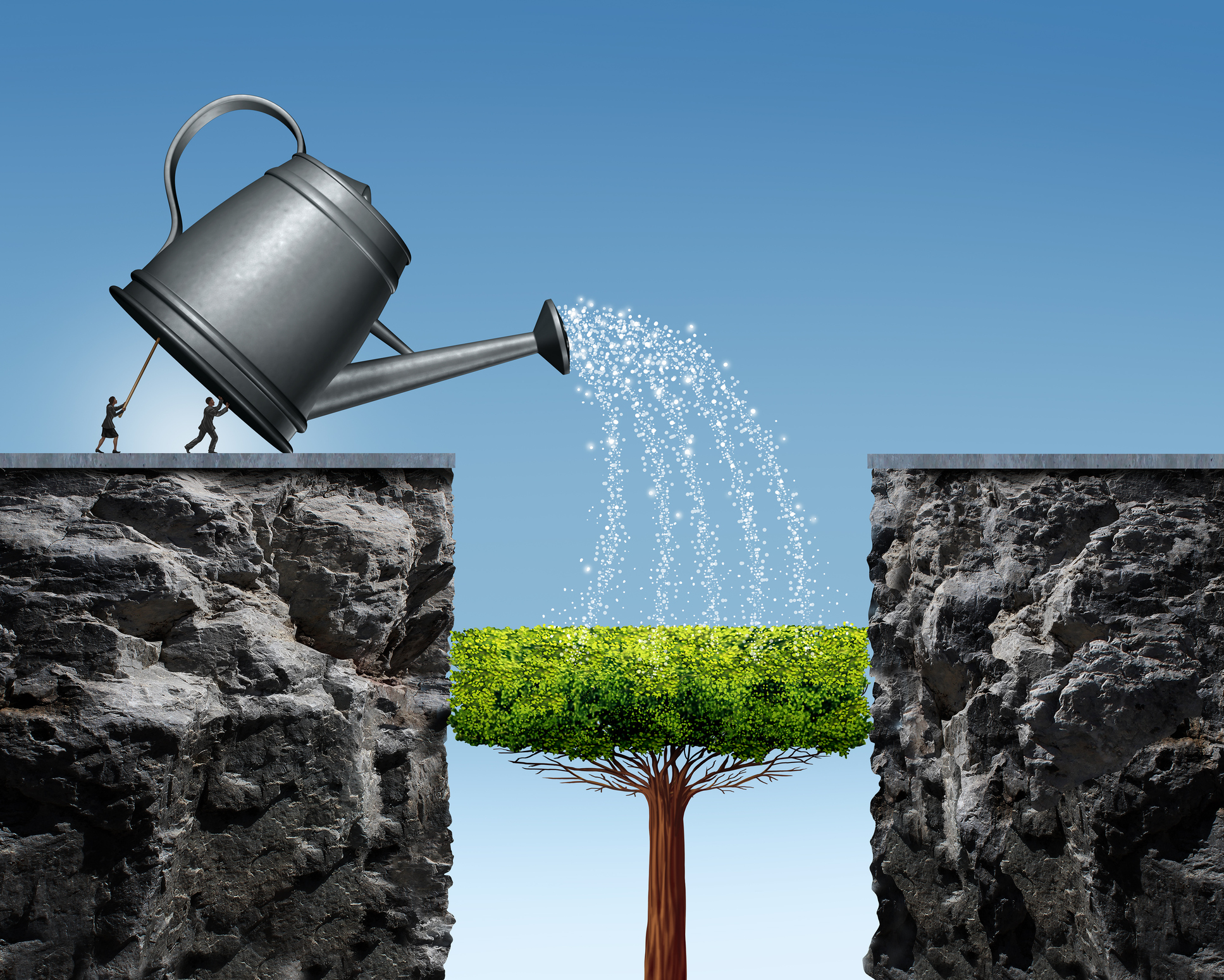 Snapshots of Client Results
---
Regional Economic Development Partnership Campaign
The client, one of the largest regional Chambers of Commerce in the U.S., has embarked upon an ambitious, multi-year economic and community development plan aimed at better diversifying their region's economy. The strategy involves competing more effectively for the best jobs and talent, recruiting companies to relocate, strengthening public and private collaboration, and improving infrastructure. After completing a competitive assessment and target business analysis, the Chamber retained SIP to launch an outreach program, court funding sources and strategic partners, and open up global channels. We collaborated with the Chamber's Board along with various public and private sector leaders on an initial outreach effort while also building a foundational platform of strategies, content and a relationship development system from which their reconstituted working groups could advance.

---
Revenue Growth, Training and Business Transformation Implementation
Co-led a six-month business transformation initiative focused on revenue growth to double the client's sales in 3-5 years: Implemented a new CRM platform, a customer-industry value survey and analysis, sales team training, a re-design of the sales compensation program, a revision of the S&OP process and various change management activities. Client is a multi-generational family owned firm in the capital equipment manufacturing industry that had recently been acquired by a P-E firm. Developed a dynamic and successful working relationship with the new CEO, CFO and other C-suite leaders brought in by the P-E firm.
---
Business Growth and Diversification Initiative, Domain Ownership Development Strategy
A pioneering family enterprise advisory firm with a market-leading position in a specialized practice area had just released a groundbreaking methodology. They desired to leverage their IP to drive a successful domain dominance strategy. With the advantage of working in a retained relationship, SIP is collaborating with the partners and other team members on all aspects of their next-generation growth and development, including: marketing and business development strategy; front-end operations and go-to-market optimization; global brand building; IP and Thought Leadership; business model scaling and diversification; strategic partnerships; digital engagement; data management; internal process improvement and infrastructure maturity.
---
Business Transformation Strategy, Value Development Initiative
Our client is a decade-old North American leader in sustainability management consulting and education services to Fortune 500 brands, with a specialization in next-generation training programs for the GRI (Global Reporting Initiative) and CDP (Climate Disclosure Project) certifications as well as other change curriculum. Facilitated a two-day company retreat of sessions focused on product ideation, organizational strategic planning and corporate messaging. Led the client through an upgrade of their Thought Leadership platform components, and provided ongoing business and organizational development counsel to help guide the maturity of their capabilities offering for the launch of a new consulting division and the strengthening of their education arm.
---
Go-to-Market Growth Optimization Initiative
Our client is a specialized boutique law firm headquartered in Boston. Comprised of former partners from large marquee firms, their team has earned a leadership position from its expertise working with innovation and technology companies – particularly early stage entities, medical device and private equity firms. SIP conducted an extensive P&L, practices and market analysis; developed a growth strategy roadmap, with full financials; vetted new technology infrastructure options for maturing their CRM processes; plus created new offering content and brand positioning to help drive an ambitious goal of doubling revenues in the next three years.
---
U.S. Market Penetration Strategy; Competitive Messaging Platform
An influential and entrepreneurial North American intellectual property (IP) law firm with a track record for success working with multinationals on managing their large patent portfolios and other innovation management strategies wants to get ahead of opportunities for global growth opening up in part from pending trade and other policy shifts. SIP is helping them to plan and scale out a U.S. penetration strategy, hone their value propositions and mature their messaging platform as part of an outreach initiative to secure new direct clients and strategic partnerships.
---
Innovation Productization, Commercialization and Business Development Initiative
A pioneering developer in the clean tech space with deep experience in chemical process engineering and management consulting has completed the initial research and discovery on a potential groundbreaking approach to energy generation. Their process may lead to a shift in the current paradigm regarding a next-generation application, device manufacturing and technology investment within their green sector. SIP conducted a market analysis and due diligence to then facilitate an ongoing commercialization build out that includes a growth and development roadmap, messaging platform and pitch deck along with strategic partnerships recruitment plus an IP protection strategy and patent filing in collaboration with our IP legal partners.
---
Business Transformation
A complete revision of the service offerings, strategic positioning, and brand identity of a thirty-year-old research industry pioneer that had matured a unique technology solution to serve a client base of Fortune 300 consumer brands in their product development and innovation initiatives. Supported their transformation into a broader strategic advisory and product development consulting firm.
---
Business Model and Product Transformation
Development of a strategic roadmap and implementation plan for migration of the editorial content, business intelligence products, and advertising business unit of a global trade publisher from its legacy print business model to an online platform. Company published over a half-dozen of the top magazines in various industry verticals. Turnkey model was built upon their flagship magazine and then sequentially implemented throughout their portfolio. They were determined to be the first publisher to not only establish a dominant presence on the Web but create alternative streams for their traditional revenue channels, therefore leading a disruption of the traditional B-to-B publishing model and becoming a new intermediary.
---
Business Model Transformation; Crisis Response to 9-11 Industry Disruption
Facilitation of a business model, service offering, and brand transformation initiative for a leading U.S. travel management firm serving global nonprofits. Successfully migrated client to an online business context while navigating through an era of unprecedented industry change: the advent of travel consumer web use, the onslaught of web-based competitors, airline industry restructurings, and widespread disruptions and Homeland Security impositions following the 9-11 attacks.
---
Business Growth Strategy; Product Development; Market Positioning Revision
Development and facilitation of the business growth strategy for a human capital consulting firm working with Fortune 500 companies on their diversity and glass ceiling initiatives, with a particular focus on programs for female senior executives. Researched and mapped training product updates and delivery models, revised all product-service positioning, built a new online platform, and provided counsel on business transformation issues.
---
Strategic Planning Initiative and Global Stakeholder Engagement Strategy
Development of the technology and design scheme as well as a strategy for content deployment, divisional integration, and utilization for the first web portal of its kind: A U.S. mainline faith denomination with a global leadership position and a multinational organizational structure. Conducted a comprehensive evaluation and studied rationale to produce an Intranet and external platform supporting an array of operational, leadership, and multi-stakeholder engagement requirements. Platform was a catalyst for transformation of the organization's business model across management teams and operating units, governing bodies, constituencies, and affiliates in various geographic locales around the world.
---
Competitive Market Analysis; Disruptive Go-to-Market Strategy
Conducted market validation research and developed a business growth strategy for the U.S. rollout to direct customer segments of a disruptive technology delivering innovation to a century-old industry. Full strategic analysis involved product, markets, customers, value chain and distribution channels as well as competitor and brand vulnerabilities, and risk issues. Developed the accompanying brand positioning, direct marketing and sales strategy, CRM infrastructure recommendations as well as online engagement activities. Also completed the competitive analysis for a sustainability case premised upon a supply chain life cycle analysis.
---
Strategic Marketing Plan; Community Relations Support
Ongoing counsel in support of the implementation of a pioneering social responsibility venture in the built environment, "co-housing", patterned after a European model of a sustainable cooperative community. Improved the acquisition rate of investors and mortgage customers; helped client navigate terrain of government agencies and mitigate political push-back from community groups.
---
Reputation and Crisis Management
Provided ongoing counsel during an acute reputation crisis for a prominent Bishop of one of the largest dioceses of a major U.S. mainline denomination. Helped to counteract political pressures and obstruction of his agenda by strategizing with his legal team to manage several highly-sensitive situations and public controversies: Property disputes, rebel parishes and rectors, renovation of an historic cathedral, social issue policies, and capital growth projects. Supported a multi-stakeholder engagement strategy that involved a leadership reconciliation team, the national church, the diocesan Standing Committee, and other governing bodies.
---
Go-to-Market Plan; Strategic Messaging; Organization Launch
Consulting team member for the launch of the first national U.S. environmental technology trade association. Helped convince chief executives from various industry firms to invest as charter members. Involved significant collaboration from the then-new Clinton administration as well as top business, academic, and government influencers. Team contributor to strategic plan and launch strategy as well as multi-stakeholder messaging. Included production of a launch summit in Washington with key participation by Vice President Al Gore, EPA Administrator Carol Browner, Commerce Secretary Ron Brown, White House Director of the Office of Environmental Policy Katie McGinty, and Harvard's Michael Porter, among others.
---
"Passion is found in the field of the unreasonable. Anything is possible if you are clear about what you want and you have strong enough reasons and a real action plan; if you have unreasonable expectations for what will be required of you and you are willing to meet them."
- Tony Robbins