Cannabis Industry Practice
Growth and Development Firepower for Cannabis Industry Innovators
---
Strategic Impact Partners (SIP) works with smart, ambitious, and purpose-driven cannabis industry organizations. For us and our clients with whom we collaborate, it's all about their customer.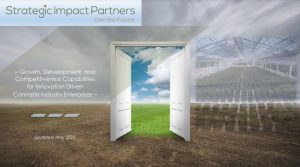 Whether through acquisition, a strategic partnership or Joint Venture, a contract manufacturer relationship or replication of a successful existing business model in a new state market, SIP is uniquely equipped to facilitate further development of your cannabis enterprise as you expand and deepen your customer relationships.
Our advantage includes an uncommon breadth of experience in the strategic, operational, and competitive contexts that you must navigate every day. We've logged years in the trenches conceptualizing, architecting, implementing, scaling, and accounting for the very challenges and solutions that you require to advance your development goals.
View our Cannabis Capabilities Deck
SIP's ESGC (ESG for Cannabis) strategy and program development capabilities can ensure your enterprise deploys the most advanced practices to align the quantity and quality of critical inputs with consistent, compliant standards of operations excellence.
"People want to work for and do business with leaders who are ethical, who mean what they say and are reliable. Cannabis is often perceived as the 'Wild West,' where anything goes. That's why it's even more important that leadership teams of major cannabis businesses are built on a foundation of integrity, reliability and compliance. Cannabis can only be normalized and prosperous when it's built on trust. Pragmatic leaders are interested in the process, in how a business will get it done. The cannabis industry would certainly benefit from more pragmatic leaders. Innovation is… about looking at a problem in a new way or finding unique approaches to resolving existing challenges."
Tyler Beuerlein
Chairman, National Cannabis Industry Association – Banking and Financial Services Committee
"The Cannabis Industry Needs Better Leaders"; Forbes - August 20, 2020.