Cannabis Industry Practice
Capabilities Overview and Senior Strategists
---
Strategic Impact Partners works with national brands, multi-state cannabis operators, real estate oriented cannabis projects, vertically-integrated enterprises, Medical and Adult Use retailers and adjacent industry companies to help their leadership teams and investor groups accelerate growth.
For all of our cannabis clients, SIP is uniquely equipped to facilitate development of any expansion strategy and its operational implementation. We can support site selection, the infrastructure requirements and regulatory navigational support for any state market.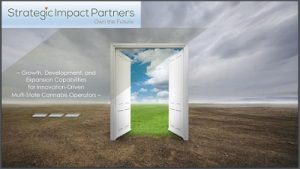 We provide end-to-end project management throughout the license application process and can analyze your Standard Operating Procedures through the lens of the very particular regulations of your next target state market.
Product consistency is critical for brands and MSOs; operations excellence drives product consistency. SIP's strategic sourcing experts ensure the most advanced supply chain practices align with consistent brand excellence. Customer delight can reach new heights with SIP's revenue building go-to-market programs.
View our Cannabis Capabilities Deck
For capitalized start-ups and early stage innovators within the plant-touching segment, we apply the right capabilities and scaling capacity to maximize revenue potential at every step in the maturity cycle.

Yan Hai, M.A.Sc
Compliance, Quality, Risk and Regulations
Over 18 years of progressive experience in the pharmaceutical, cannabis, medical device, and natural health products industries including scientific and quality management contributions to some 300 projects to date
Knowledge and extensive experience within a range of quality and compliance matters including cGxPs, FDA and Health Canada drug, cannabis and medical device regulatory standards, and ISO frameworks
A track record of success improving quality systems, interpreting new regulatory requirements, fixing gaps between quality systems and regulatory standards, implementing CAPA systems, and advancing quality processes to ensure compliance and cost effectiveness
Held a variety of roles with global pharmaceutical leaders including Sanofi Pasteur, Novartis, Taro Pharmaceuticals and Thermo Fisher Scientific
President and Principal Consultant – Innova Medipharm, Inc., specializing in regulatory compliance, quality assurance, and cGxPs services for the cannabis and pharmaceutical industries
Client engagements include inspection readiness, auditing, SOP development, GMP and ISO qualification, quality management system alignment, deviation investigation, gap assessment and change control programs
M.A.Sc, Chemical Engineering and Applied Chemistry & Biomaterials/Biomedical Engineering, University of Toronto, Canada
B.Eng., Chemical Engineering, Tongji University, China
---

Mike Regan, M.B.A.
Chief Analyst; Market Value-Valuation Strategist
Read Bio Here

---

Alec Alessandra, M.B.A., CPM
Supply Chain ESG; Supply Chain Leadership and Operations Transformation
Read Bio Here
---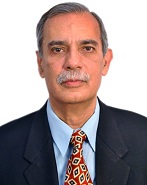 Dr. Darrell DeMello, M.B.B.S.; M.B.A.
Cannabis Senior Strategist – Biotech-Pharma-Medical Sectors
Twenty-five years in senior leadership roles and entrepreneurial management involving international sales and enterprise advancement, product and market development, go-to-market strategy, and clinical training curriculum and facilitation for marquee brands in medical devices, pharmaceuticals, and minimally-invasive clinical healthcare environments
Built a global relationship network of key opinion leaders for evaluating healthcare Voice of the Customer requirements
Responsible for the introduction of new products and techniques in angioplasty, coronary and peripheral stenting, neuro-vascular interventions, gastro-enterology, endoscopy and endo-urology procedures, and ophthalmology
Successfully structured, negotiated, and executed licensing and acquisition agreements to expand market penetration
Founder of Market Access India, a facilitator of access to India and other Asian markets for U.S.-based companies
President, ScyFIX, a medical device start-up in ophthalmology where he developed a clinical and regulatory plan for FDA approval in the U.S. and international markets
At Boston Scientific Scimed (Minnesota), served as Senior Product Manager – Cardiology, Emerging Technologies, and New Business Development
At Boston Scientific Asia Pacific (Singapore), as Asia Pacific Marketing Manager, developed a physician training program and trained sales teams to transition from a distributor to direct sales model in Asia
Organized and conducted the first cases using the intra-operative Cobra system to treat Atrial Fibrillation in Australia
At Boston Scientific (India), served as Area Director reorganizing region into one cohesive business in 12 months with six acquisitions; recruited a multi-functional team of 60 employees
At C.R. Bard International, served as Sales Manager and Clinical Coordinator, organizing clinical training and marketing programs; sold the first Cardiac Mapping system and first 2 Bard EP Lab systems in India
For Cynamid, Lederle Division (India), served as Group Product Manager in the pharmaceutical division; ensured a 40% reduction in production costs and achieved a 100%+ increase in unit sales along with 200% increase in volume sales
At Wyeth Laboratories (India), served as Professional Services Manager providing medical rationale for promotion campaigns and product training
M.B.B.S., Physician, Bangalore University – St. John's Medical College
M.B.A., University of Minnesota, Carlson School of Business
"People want to work for and do business with leaders who are ethical, who mean what they say and are reliable. Cannabis is often perceived as the 'Wild West,' where anything goes. That's why it's even more important that leadership teams of major cannabis businesses are built on a foundation of integrity, reliability and compliance. Cannabis can only be normalized and prosperous when it's built on trust. Pragmatic leaders are interested in the process, in how a business will get it done. The cannabis industry would certainly benefit from more pragmatic leaders. Innovation is… about looking at a problem in a new way or finding unique approaches to resolving existing challenges."
Tyler Beuerlein
Chairman, National Cannabis Industry Association – Banking and Financial Services Committee
"The Cannabis Industry Needs Better Leaders"; Forbes - August 20, 2020.