Cannabis Industry Practice
Capabilities Overview
---
Strategic Impact Partners (SIP) works with smart, ambitious, and purpose-driven cannabis industry organizations. For us and our clients with whom we collaborate, it's all about their customer.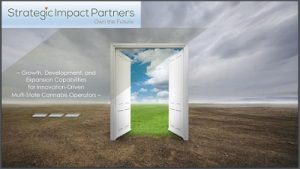 Whether through acquisition, a strategic partnership or Joint Venture, a contract manufacturer relationship or replication of a successful existing business model in a new state market, SIP is uniquely equipped to facilitate further development of your cannabis enterprise as you expand and deepen your customer relationships.
Our advantage includes an uncommon breadth of experience in the strategic, operational, and competitive contexts that you must navigate every day. We've logged years in the trenches conceptualizing, architecting, implementing, scaling, and accounting for the very challenges and solutions that you require to advance your development goals.
View our Cannabis Capabilities Deck
SIP's ESGC (ESG for Cannabis) strategy and program development capabilities can ensure your enterprise deploys the most advanced practices to align the quantity and quality of critical inputs with consistent, compliant standards of operations excellence.

Scott Berman, B.Sc.
Senior Associate – Cannabis
Independent Cannabis consultant leveraging legacy experience in helping to develop the industry since 2014 with pioneering work at the convergence of technology, retail POS, brand differentiation, and customer lifecycle engineering
Official Statistician (since 1988) for all NBA home games of the Philadelphia 76ers
Co-Founder, The Panther Group
Principal and Member of the Investment Committee, Panther Opportunity Fund, a vintage cannabis venture capital fund with a complementary and diverse set of portfolio companies
Member, Management Committee for The Panther Micro Fund, which is actively deploying capital into new cannabis companies
Team has conducted due diligence on and invested in 40+ sector companies and deployed capital into 20+ subsectors that include fintech, lab testing, growers-cultivators, brands, retailers
Board Member, MJ Unpacked
Co-Founder, the Cannabis Rep Network (merged into Calyx Distribution) in 2014 to provide sales and distribution services for brands in California
Network enabled quality brands to improve their sales outcomes in the dispensary channel
Operated in California and Colorado, connecting manufacturers and producers with some 2,000 qualified dispensary buyers more efficiently than having a dedicated sales team
Out of more than 240 legal cannabis companies, selected to pitch ArcView and secured a $500K seed round at a $3M valuation
Co-Founder, Audience Partners (2007), a data-driven, enterprise digital advertising company that pioneered a new way to target audiences for healthcare, politics and advocacy, and telecommunications
Platform leveraged data science, programmatic ad buying, and unique first-party data assets
Clients consisted of Senators, Members of Congress, Governors, advocacy groups, U.S. Government agencies, cable television providers, wireless companies as well as large hospitals, health insurers, and pharmaceutical companies
Co-Founder, Campaign Grid LLC, which developed a new Internet voter targeting platform and advertising network
Board Member – Athletes for CARE; Board of Trustees – AlmaLinks; Board of Advisors – Philadelphia Chapter, After School All Stars
B.Sc., University of Maryland
---
The breadth of experience and expertise represented on the entire SIP Team is readily applied to our cannabis client engagements as required. Two of our colleagues are particularly equipped in key areas of cannabis enterprise need right now:
"People want to work for and do business with leaders who are ethical, who mean what they say and are reliable. Cannabis is often perceived as the 'Wild West,' where anything goes. That's why it's even more important that leadership teams of major cannabis businesses are built on a foundation of integrity, reliability and compliance. Cannabis can only be normalized and prosperous when it's built on trust. Pragmatic leaders are interested in the process, in how a business will get it done. The cannabis industry would certainly benefit from more pragmatic leaders. Innovation is… about looking at a problem in a new way or finding unique approaches to resolving existing challenges."
Tyler Beuerlein
Chairman, National Cannabis Industry Association – Banking and Financial Services Committee
"The Cannabis Industry Needs Better Leaders"; Forbes - August 20, 2020.